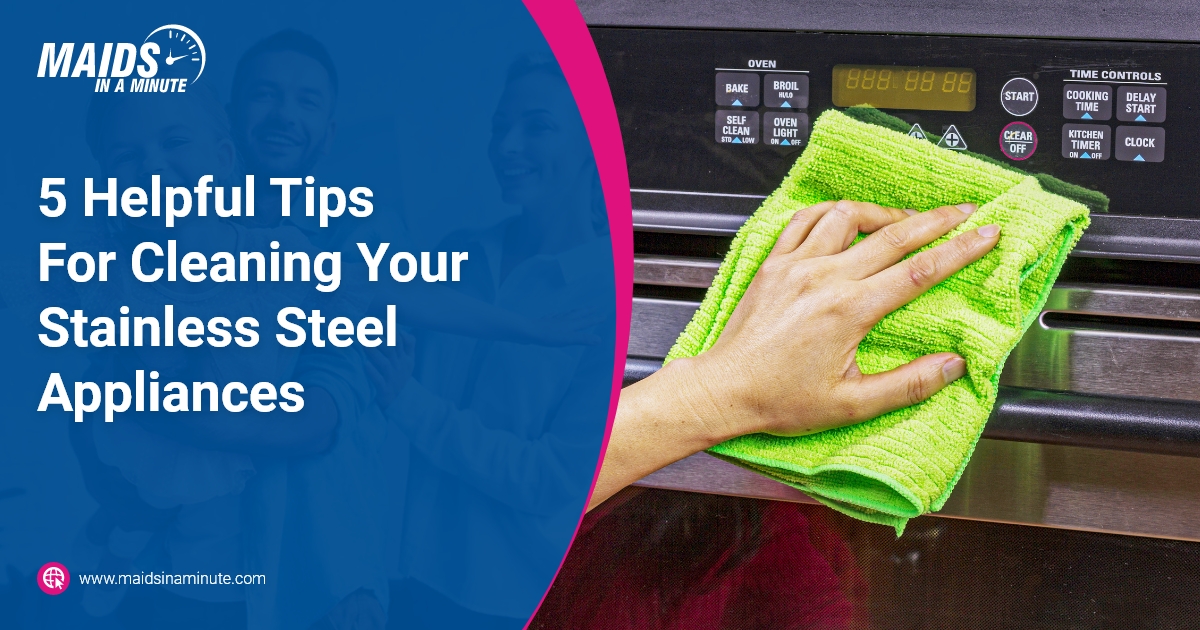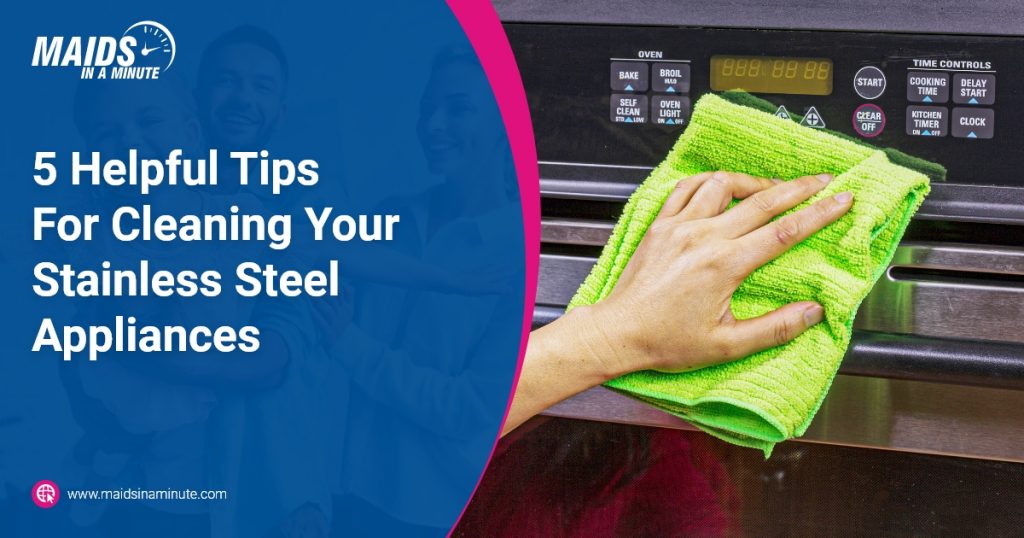 Why is every kitchen appliance made of stainless steel? One reason is that stainless steel makes your kitchen look great! Also, this type of material is resistant and doesn't need much maintenance. 
However, stainless steel needs constant cleaning. Otherwise, fingerprints and other small stains could make it look dirtier than it really is.
The good news is that cleaning stainless steel isn't that challenging. Here are five cleaning tips for your stainless steel appliances!
Tip #1. Wipe in the direction of the grain
If you look closely at your appliances, you'll find thin lines and patterns on the surface. That's because, much like wood, stainless steel has a grain. Identifying the direction of the grain on your appliances is crucial because those lines are actual ridges that could trap dirt.
Whenever you wipe or buff stainless steel surfaces, make sure to follow the grain to remove most dirt and grease residue.
Tip #2. Avoid steel wool and abrasive pads
Suppose a stubborn grease stain appears on your fridge or stove: would you reach for an abrasive scrubber or a soft cloth? If you are ready to use anything but a soft cloth, your stainless steel appliance can end up with an ugly scratch!
Your best choice is a high-quality microfiber cloth, but any soft rag could serve you.
Tip #3. A damp cloth is usually enough
A common mistake between homeowners is bringing their all-purpose cleaner to wipe every surface. What may be an effective cleaner on your floor or countertops might not be suitable for the stove or microwave.
When it comes to cleaning stainless steel, less is more. Usually, a damp cloth is enough to clean slightly stained appliances.
Tip #4. Use soap or vinegar to clean stubborn stains
Kitchens can get messy because of the food residue and sticky grease. However, if you find a grease stain on your stainless steel appliance, use dish soap or vinegar to clean it.
Here are the methods:
Dish soap
Place a few drops of dish soap onto a clean cloth. Then, damp the cloth just slightly.
Wipe the surface in the direction of the grain. You can add more soap or water as you need.
After the stains are gone, wash the cloth and use it to rinse the stainless steel surface.
Dry with a clean towel.
Vinegar
Mix half white vinegar and half water in a spray bottle.
Spray the solution to a clean cloth (or mist the stainless steel directly) and wipe in the direction of the grain.
Wash the cloth and use it to rinse the vinegar residue from your appliance. You could use another cloth dampened with plain water.
Dry the surface with a clean towel.
Tip #5. Buff with olive oil
Polishing stainless steel can restore its original shine and protect it from damage. Besides, you only need olive oil and a clean, soft cloth!
After cleaning the surface, put a few drops of virgin olive oil onto the cloth. Then, buff the stainless steel in the direction of the grain. Finally, wipe excess oil with a clean section of your cloth.
Do you need a hand with the cleaning chores?
Keeping your appliances and fixtures clean can be time-consuming. Instead, let Maids in a Minute take care of the chores while you use your free time on what matters!