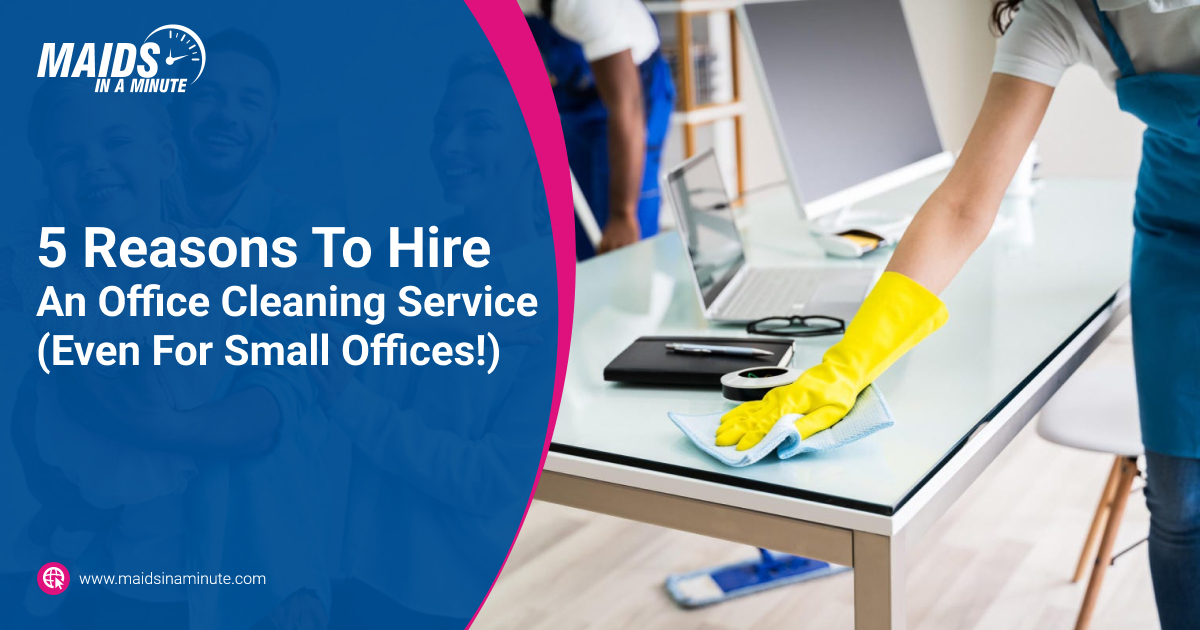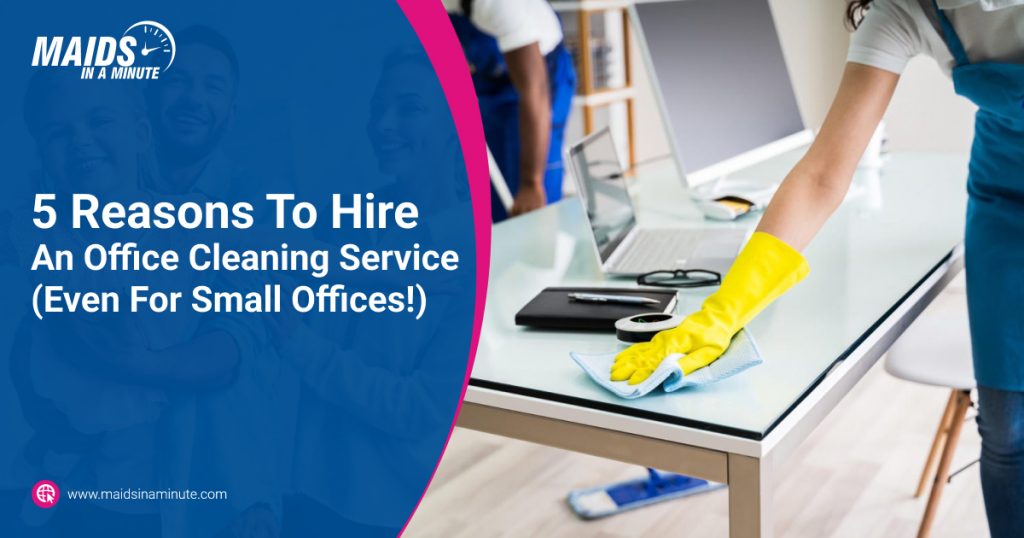 Should you hire commercial cleaning services for your workplace, hire a janitor, or let your employees clean? While cleaning is a priority, an office administrator could be on the fence about the best approach to do it.
However, in most cases, outsourcing your office's cleaning needs to a company like Maids In A Minute is your best option!
Here are the reasons why even a small office can benefit from hiring office cleaning services.
Reason #1. Health is a top priority
Health has always been important in the workplace, but now it's crucial. Cleaning a space will keep germs and viruses at bay and reduce disease spreading. In other words, keeping your office clean and disinfected means fewer sick days, directly benefiting productivity.
Also, an employee that knows you care for their health will feel more comfortable and committed to your business!
Reason #2. A clean space gives great first impressions
You can't give a great first impression in a dirty office. When meeting with customers or business partners, one of the first things they will see is your workplace. If they find dust, dirty floors, or messy bathrooms, they might get the wrong idea about your business.
Investing in a commercial cleaning service can help you ensure your office will be ready for visitors.
Reason #3. Your team can focus on their tasks
Sometimes, office administrators solve their workplace cleaning needs by letting everyone clean their own space. This trick may work to keep an office clean, but it's also true that employees will be wasting valuable time cleaning.
On the other hand, if you leave the cleaning chores to the professionals, you can ensure a work team focused on what matters most!
Reason #4. You can save money!
When you consider every tiny expense of cleaning your workspace, hiring a commercial cleaning service might seem budget-friendly.
To keep an office clean, you need to spend on equipment and cleaning supplies. Besides, if you have a full-time janitor, you'll need to spend on training, workers' compensation insurance, and payroll taxes.
On the other hand, an office cleaning service includes everything at a flat rate! A cleaning company like Maids In A Minute can send you a trained and fully equipped professional.
Reason #5. Clean furniture and equipment last longer
When cleaning is neglected, everything inside your office can gather dust and dirt—or even grow mold! Some of the valuable assets in an office are furniture or equipment (like computers,) so it makes sense to take care of them.
Sooner or later, dirt leads to damage, and replacing the equipment will be even more costly than hiring commercial cleaning services.
Hire professional office cleaning services in Michigan
Are you ready to invest in high-quality cleaning? Maids In A Minute is a professional cleaning company servicing all across Southeast Michigan, including Grand Blanc, Detroit, and Royal Oak.
Our top-quality office cleaning is the perfect way to ensure you'll leave the best impression on each visitor and business partner. Do you have any questions? Ask us here or give us a call.