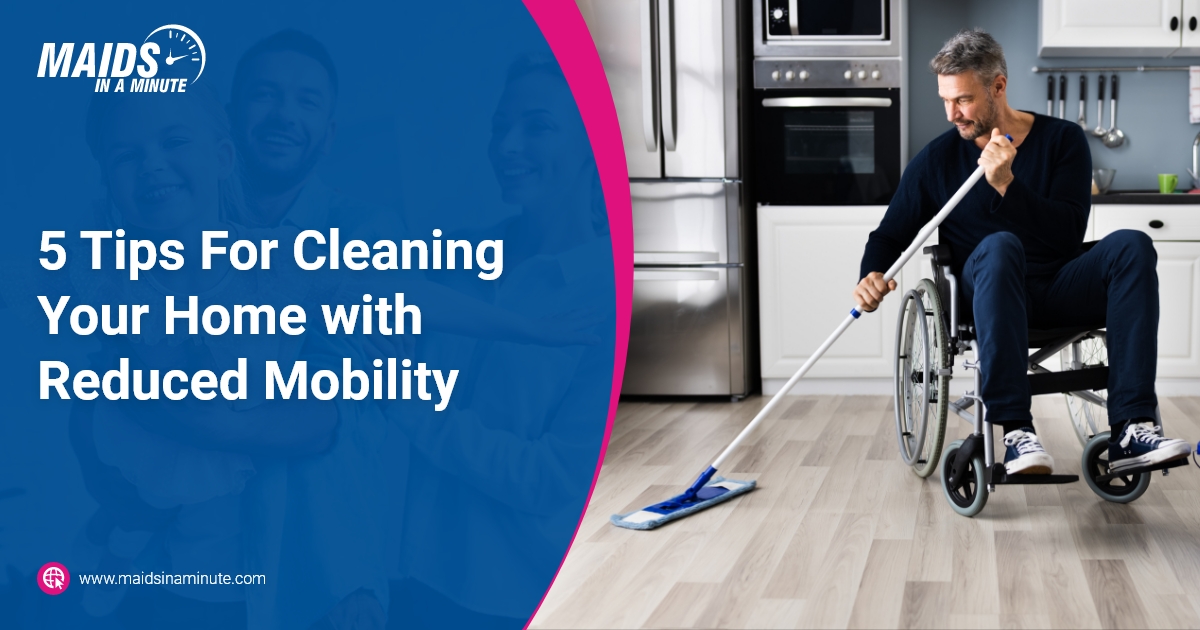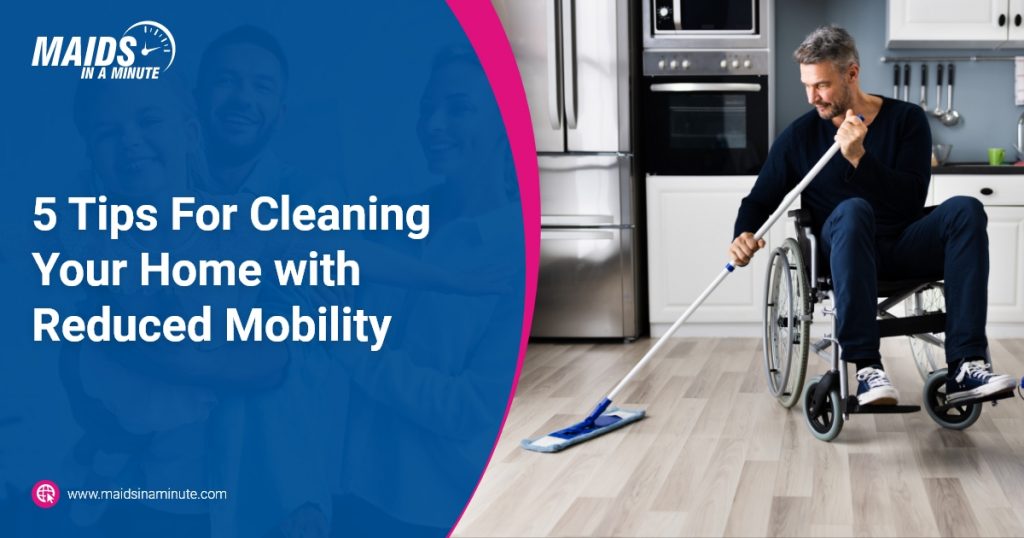 Reduced mobility may be caused by a medical condition, but it can also occur after surgery, an injury, or due to age. Whether you are going through temporary mobility difficulties or a permanent change in your lifestyle, keeping up with the housework may pose a challenge.
However, there are some actions you can take to make housework easier. Here are five home cleaning tips for people with limited mobility.
Tip #1. Keep a slow but steady progress
Cleaning is no easy task; it requires stretching your muscles and joints. Besides, cleaning with limited mobility might involve putting even more effort into each chore. In other words, you could be risking yourself by overdoing the cleaning.
If you usually leave aside the chores to take care of them during a long cleaning session, you might need to reconsider your approach. Instead, you could spread your whole cleaning routine onto a full-week schedule.
Tip #2. Make moving around in your home easier
The easier (and safer) you can move inside your home, the less you will struggle with the cleaning. Here are a few considerations:
Make sure your furniture is arranged not to obstruct your mobility aids. It could be a good idea to get rid of a couple of furniture pieces.
Look out for cables, mats, or any other tripping hazards.
Consider changing carpeted floors for hard floors.
Install grab bars in specific areas as support.
Keep the floor clean and decluttered.
Tip #3. Get a vacuum cleaner that suits your needs
Upright vacuum cleaners are helpful cleaning tools, but they are weighty and hard to handle. Besides, their cleaning chords can get in the way of your mobility aids or become a tripping hazard.
Instead, consider investing in a lightweight, cordless vacuum cleaner that suits your needs. For example, some stick vacuum cleaners are powerful enough to clean carpets but are much more comfortable.
Tip #4. Take advantage of tools with extended handles
Cleaning tools with extended reach are usually low-tech and budget-friendly devices. However, they can help you clean your home without stretching, standing on tiptoes, or getting down on your knees.
For example, a squeegee with a telescopic handle could work for cleaning mirrors, or an extended scrubber can help you clean the baseboards without kneeling. Also, a grabbing tool could help you reach things a few feet away or pick stuff from the floor.
Tip #5. Let the tools and products do most of the work
When you are facing a challenging task, don't scrub right away! Instead, you could let the cleaning solutions sit on the stain and do the work for you.
Also, another way to avoid scrubbing is by taking advantage of the following cleaning tools.
Handheld power scrubbers: You can find electric brushes and other handheld power scrubbers to get rid of tough stains.
Melamine sponges: These tools are called magic erasers for a good reason! They can remove tough stains without the scrubbing part of the process.
Your dishwasher: You can take full advantage of this appliance and use it for more than washing dishes. Here are a few things you can clean in your dishwasher.
Bonus tip: Let someone else do the cleaning
Sometimes, delegating the cleaning to other household members is the best choice. However, if that's not an option, you could always hire a professional cleaner to do the chores.
Maids in a Minute offers quality cleaning services to everyone in Southeast Michigan. You can rely on our insured maids. Besides, our flat-rate pricing will amaze you! Learn more about our cleaning services right here.