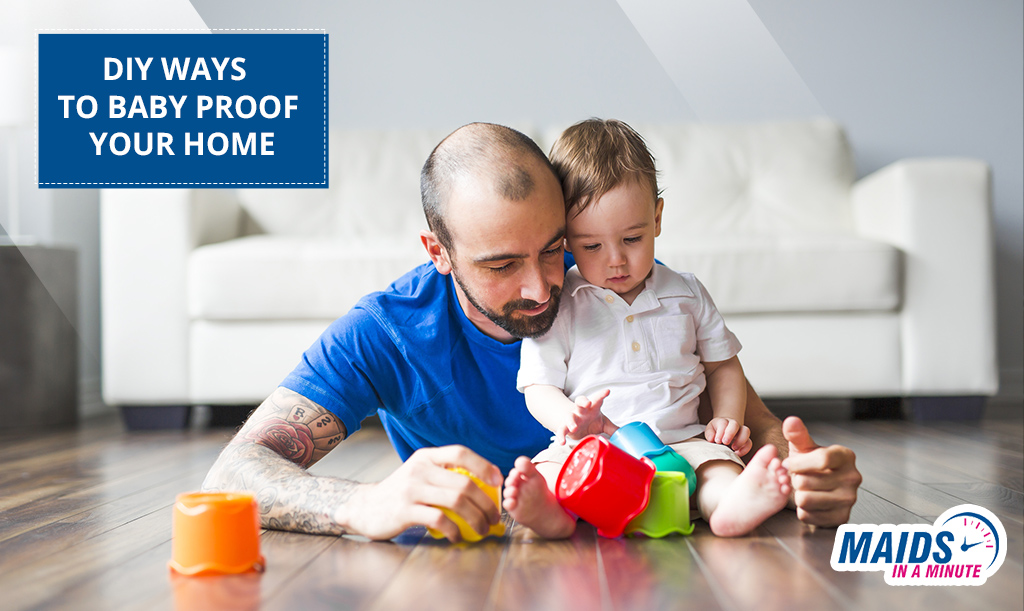 It was just months ago when you brought your bundle of joy home from the hospital and now, they're crawling all over the place. You couldn't be prouder! However, now you need to baby proof your home before Junior gets too curious. Fear not. Maids in a Minute are here to provide you a baby proofing checklist for your home to set you on the right path to protecting your baby. 

Living Space
When protecting your child from dangers in the living quarters, be thorough. Babies are terribly curious and like to pull, push, and put items into other objects. Things to look out for are entertainment centers, bookshelves, televisions, the fireplace, loose cords, curtains/blinds, outlets, sharp edges, and vents. The following list contains ways to baby proof your home the DIY way.
Stairs
It's terrifying to watch your child fall down the stairs, stand up, then laugh, but it's preventable. The best protection is to place a baby gate at the base of your staircase and at the top. Also, make sure to protect the space between the railings. Carpets and throw rugs are also a potential tripping hazard you should be aware of when baby proofing your home.
Kitchen
Regardless of age, the kitchen is a dangerous place if safety is not taken into consideration. To baby proof a room, consider all locations your child will find curious, such as drawers, doors, knobs, shiny items, etc.
Bathroom
The best way to prevent your baby from messing with stuff in the bathroom is to keep the door shut. If your child is older and capable of opening doors, then follow these simple DIY baby proofing ideas:
Taking the time to examine your home makes a huge difference when your goal is to protect your family. Not only does it keep Junior from harm, but it gives you peace of mind when your back is turned—even for a split second. Though children think we have eyes in the back of our heads we don't. Don't let the baby blues get you down. With this in-depth list, you have a head start and know what you need to look for and how to proceed. Enjoy every moment—they grow up fast.