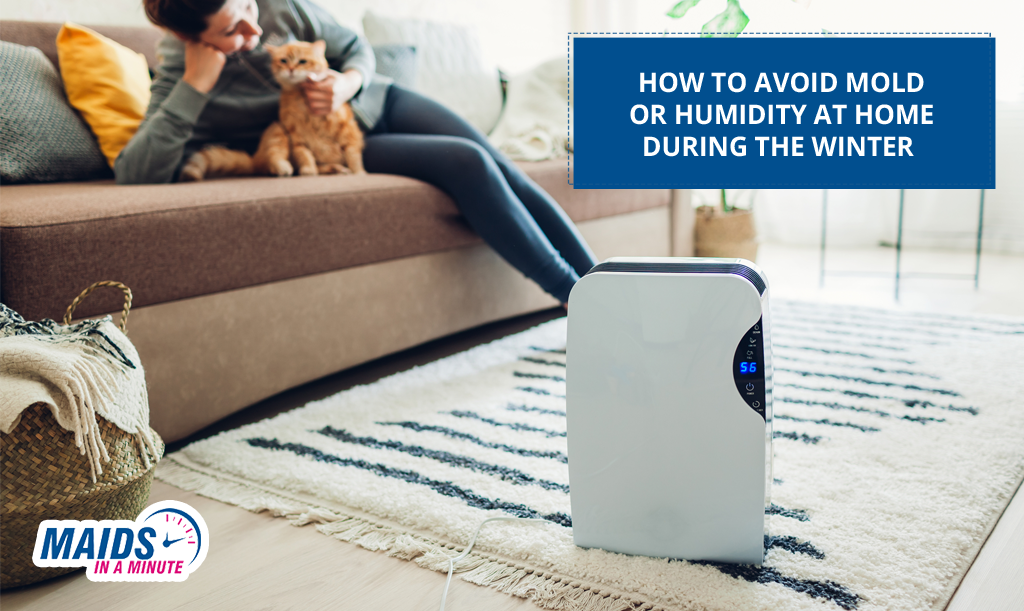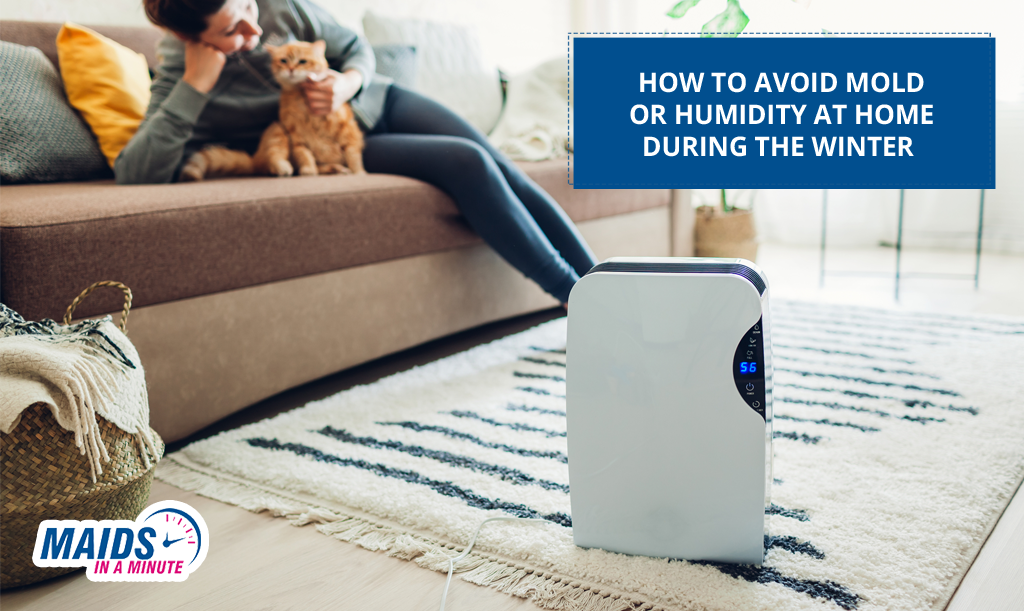 It's frightful outside. The snow is piled high against the car. The wind is howling. However, none of it matters. You're nestled in for the winter. You have your electric blankets, fuzzy slippers, hot cocoa, and a pile of books by your bed. You couldn't be more ready…but are you really? Little do you know that a mixture of warm and cold air is creating excess moisture in your home making a breeding ground for mold! Have no fear, Maids in a Minute is here to show you how to avoid these problems during the winter. 
Use a Dehumidifier
Perhaps the #1 way to prevent the creation and spread of mold in your home is with a dehumidifier. It's common to find one of these devices in the basement where moisture is most likely to wreak havoc, but it can also be useful throughout the rest of your home. You may wonder at what relative humidity does mold grow? According to Moldpedia.com, mold begins growing at 55% relative humidity. And at what humidity does mold die? It is recommended to keep your home between 30% and 50%.
Exhaust Fans
The use of exhaust fans in the kitchen and bathroom is your next step in defense against mold. It's easy to create trapped moisture in the bathroom during the winter. Without running the fan, you build up a large volume of steam with nowhere to go. Exhaust fans eliminate this problem. It's recommended to let the fan run an extra 15 minutes to clear the room for complete ventilation. This same principle applies to the kitchen.
Reduce Air Flow
Areas you might not think of looking into are places in need of minor repairs, such as cracks, unsealed outlets, windows, gaps around doors, skylights, areas around plumbing, the dryer vent, etc. It's important to include these areas in your routine in the fall when you're preparing your home for the winter.
Area Rugs
Whether you have carpet flooring or hardwood, area and throw rugs will help to absorb extra moisture during the winter. These rugs prevent moisture from seeping into the carpet base and padding where mold can easily grow. Area and throw rugs are also easy to clean and keep dry. With hardwood floors, rugs help prevent tracking moisture to other rooms that may have carpet and thus preventing the potential growth of mold throughout the house.
Clean Regularly
There's no more important time to keep your home clean than during the winter season. With winter's harsh conditions and changing climates the breeding ground for mold is greatly increased. Establishing a routine will help to maintain the cleanliness of your home and minimize the production of mold. Likewise, a clean home is a happy home and will simply appease the moodiness of the winter blues.
Finally, your home is truly secure. You've patched here and there, stopped the draft coming in from the front and back doors, added window coverings, and of course use your vents always. You are indeed mold-free. You let out a sigh of relaxation and snuggle deep into your oversized pillows and pull the blankets up around you. You rest the plate of cookies on your knees and open your book and nestle in for a long cold winter.