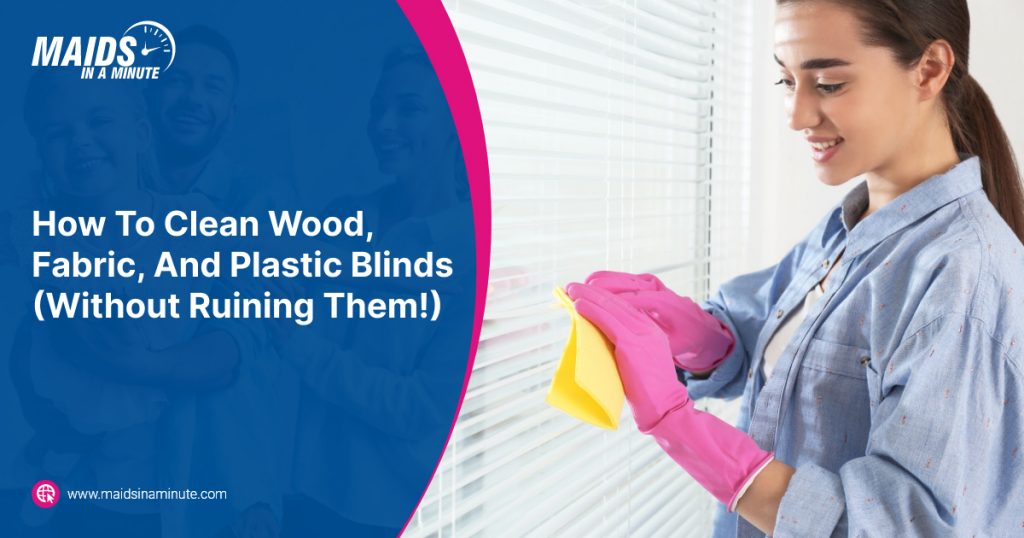 Keeping your window blinds in good condition is essential to make your home look tidy and clean. However, it's not always that easy, as different types of blinds require different methods to tackle the grime on them.
If you want to clean your blinds without damaging them, keep reading to find out how!
How to clean plastic blinds
Plastic blinds are the easiest to clean due to how resistant they are. Therefore, you won't have to worry about going too harsh on them. Just follow these steps:
Dusting is mandatory
Shut your blinds flat and use a vacuum cleaner with a brush attachment to remove the dust. To avoid unnecessary hassle, hold every slate with your free hand as you dust each one of them.
Prepare a DIY cleaner
Mix equal parts of white vinegar and water. Once ready, dampen a microfiber cloth in the agent and use it to remove the stains. If you find any stubborn spots, don't be afraid of using a little elbow grease. Dry the blinds with a clean rag and you're done.
Pro tip: An effective technique to get rid of stains is to tightly wrap the rag around each slate and slide it from one end to the other.
How to clean fabric blinds
Fabric blinds are very delicate and can be easily damaged, so you need to be extra careful when cleaning them.
Vacuum the blinds carefully
It may seem very easy to use the vacuum cleaner on this material, however, do not pull on them too much or you'll risk ripping and tearing the fabric.
Note: If you don't want to risk tearing your blinds, you can use a duster to dust your blinds safely. Keep in mind that this method is less effective than using a vacuum cleaner.
Make a stain remover
Now, to make a homemade stain remover, you'll need to mix one cup of lukewarm water and a few drops of dish detergent.
Apply and rinse
Dip a microfiber cloth in the solution and wring it to avoid dripping. You won't need more than to dab over the stains gently. In case of a difficult stain, put some dry baking soda on your cleaning cloth. Finish by rinsing the area with a slightly dampened clean cloth.
How to clean wooden blinds
Wooden blinds can be damaged if the proper technique is not used. Check out how to leave them spotless:
Close and dust the blinds
The best approach when dusting your blinds will always be to close them first. Then, use either a vacuum cleaner (brush attachment recommended) or a feather duster to remove the dust.
Wipe and dry the blinds
Water and wood don't get along. So, avoid ruining your blinds and use a slightly dampened microfiber cloth to remove stains. Also, protect the finish in your blinds by not scrubbing too hard. Finally, remember to dry the slates as you finish wiping each one.
Would you prefer help from the pros? We got you covered!
Maids In A Minute is your best option if you want clean blinds but don't want to ruin them! We have a wide variety of cleaning packages and add-ons (like blinds cleaning) that will fulfill all your cleaning needs. Book with us today!