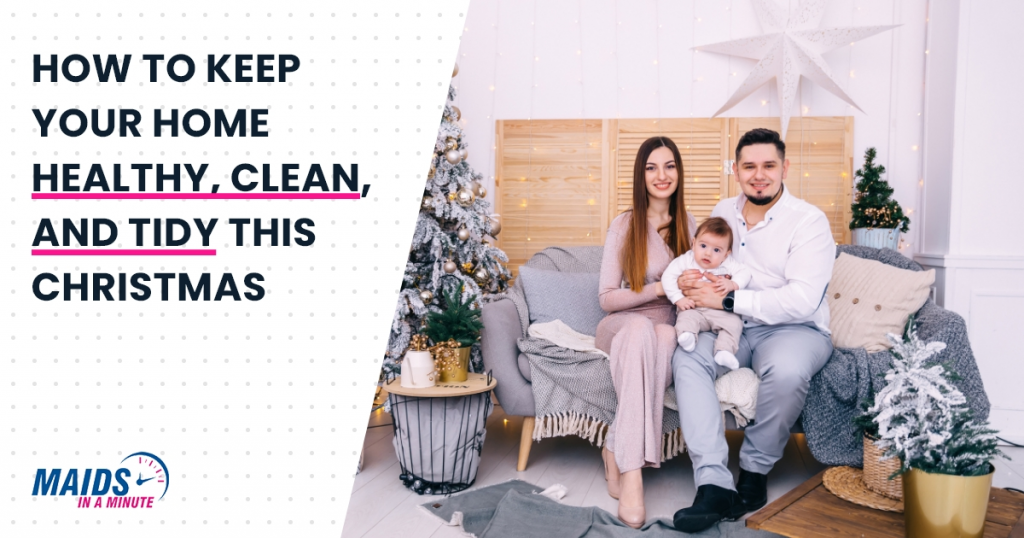 You're the family's go-to for holiday gatherings, yet Christmas clean up makes you regret it every year. 
See, all year long, you have a place for certain things and things for specific locations. But during the Christmas season, you have to patch, update, wash, and replace stuff to create room for decorations and a Christmas tree.
It doesn't help that time spent cleaning is time missed out on family and friends or enjoying the holiday season.
But guess what, keeping your home tidy and clean even with decorations can be a cinch with these easy home cleaning tips this Christmas.
You just need a little change and planning, as described below.
Stock-Up Cleaning Supplies before Christmas
Have you seen all that Christmas craziness?
You don't want to run out of your cleaning supplies right before the holiday as it worsens.
To avoid that, stock up enough cleaning supplies to last through January.
First, do an audit of the existing cleaning supplies in your home. To ease the auditing process, curate a list of all your favorite cleaning essentials and mark off the products you already have. Then bring the list with you to your local supplier and gather the rest of the cleaning essentials.
While at it, buy bulk-sized items to save on money (and plastics).
Engage the Whole Family
Christmas is the time for family bonding, so why not connect over cleaning?
To do so, designate time each day when members of your family contribute to cleaning and tidying your home.
Assign specific tasks to each person based on their strength or capacity to do the job.
Turn the process into a routine by sticking to the same cleaning time each day – and you'll be amazed by how much cleaning gets done in, say, 30 minutes.
To motivate your family, remind them that the faster you finish up the chores, the more time you'll have to engage in fun activities.
Deep Clean as You Decorate
Deep clean and disinfect as you put up those Christmas decorations.
That means cleaning the oven, washing the windows, dusting light fixtures, deep cleaning the carpet, cleaning the baseboards, and washing down markings on the wall.
Here, do every non-recurrent thorough-cleaning activity you can think of, including the Christmas decorations.
While at it, clear out stuff you haven't used in six months or so to create room for decorations and a Christmas tree.
Focus on Highly-Used Areas
Logically, cleaning highly-used areas can curb the spread of dust and dirt to the rest of the house.
While at it, dedicate a spot at the entrance where people can take off and leave their shoes – which will help contain dirt and dust in shoes in one place.
Also, place doormats or small-area rugs to help trap incoming dirt and dust.
And for the pets, place old towels or its equivalent and a shallow container containing room temperature water at the entrance to wipe down dust, dirt, or mud before coming into the house.
Side note, you should groom the pet regularly to minimize shedding – which adds more dirt.
Tidy as You Go
Cleaning as you go is more comfortable, faster, and less consuming – especially when dealing with a massive mess later.
And for when you're short on time and the items have accumulated, stash them away into a large "put away" basket. It could also be a large laundry or bin basket.
Just go around the house and gather anything on the floor or that needs to be "put away" someplace else. The goal here is to contain the mess.
Merry Christmas
In the end, don't lose sight of what Christmas is about -bonding with loved ones. As you gather with loved ones either safely in person or remotely this year, appreciate that no one is there to see you clean; instead, they're there to see and bond with you. To have ample family time, let Maids in a Minute do your thorough cleaning for you. We leverage our expertise and skilled team of cleaners while remaining flexible to accommodate any client's special instructions.