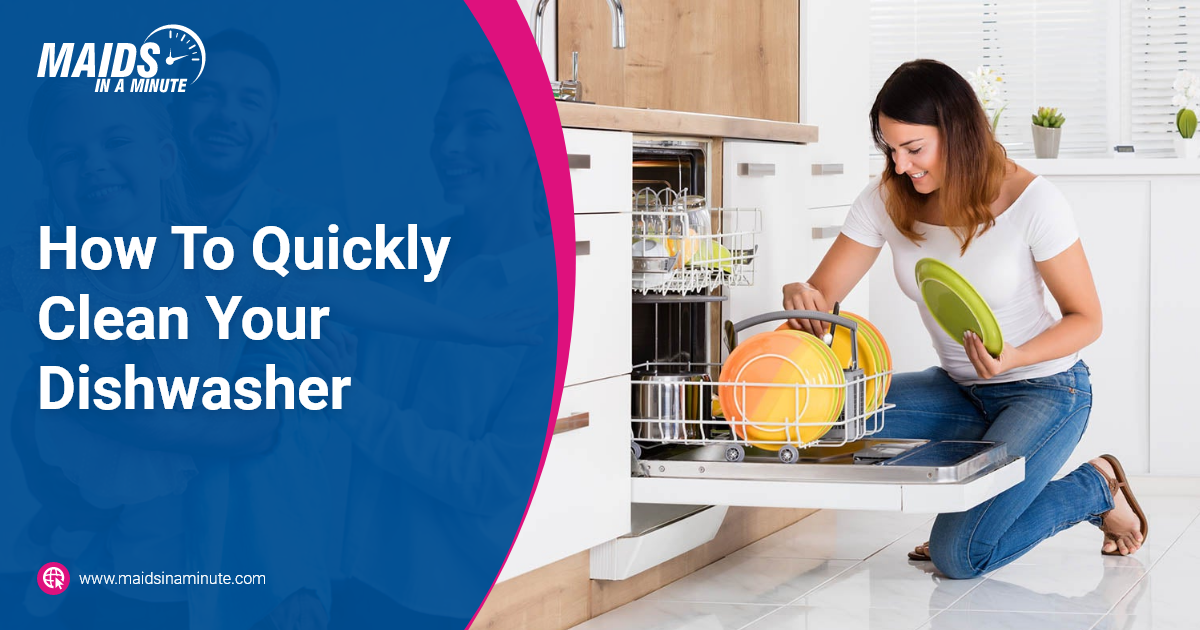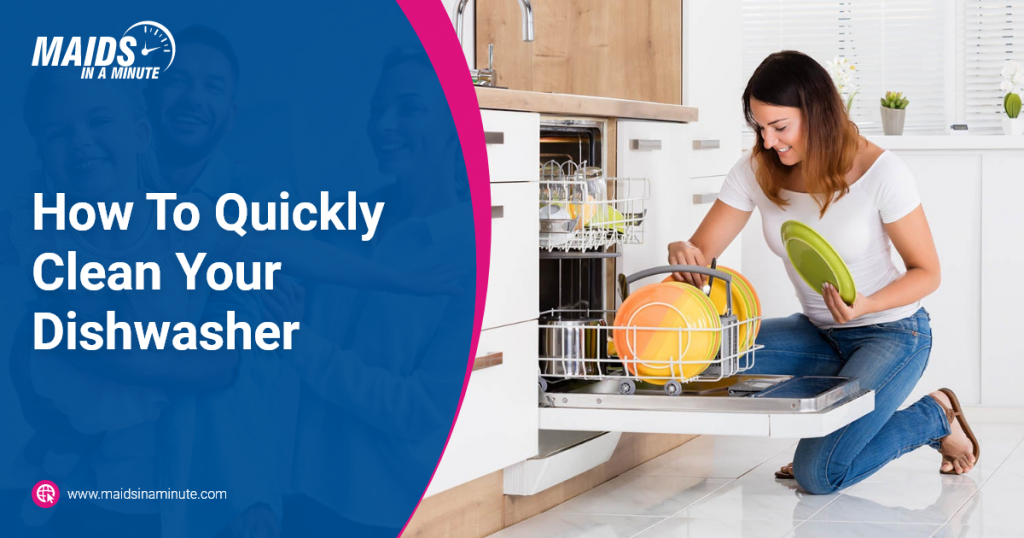 Even though dishwashers work their magic with soap and water, they'll still get dirty—all those crumbs and gunk on your dishes must go somewhere. Besides, the leftovers and moisture can make your dishwasher smell funky.
If you think your dishwasher needs a cleaning ASAP, you've come to the right place! Here you'll find an easy way to leave your trusty appliance as clean as new.
How to clean your dishwasher
Cleaning your dishwasher may seem challenging, but it's easier than you might think. You don't even have to leave your place to get cleaning supplies, as you can do the work with everyday household items! Here's how to do it:
Step #1. Preliminary clean
To get your appliance as clean as possible, first, you will need to take out the removable parts: racks, utensil holder, and filter (some filters require specific tools to remove them).
Once out, leave them soaking in warm water mixed with 2 cups of white vinegar (this will help loosen the icky gunk). After 30 minutes, remove everything in the mix, scrub them if necessary, and rinse to finish.
Pro tip: To avoid damaging your filter, use a medium or soft-bristle brush.
Step #2. Get into the nitty-gritty
While your dishwasher is empty, you can check for stuck-on food leftovers. Focus on the nooks and crannies you wouldn't usually see.
Use a dampened microfiber cloth to wipe all the walls and the spray arms. Ensure you wipe all the residue off. If you encounter stuck scraps, a toothbrush or toothpick are good options to deal with them.
Before continuing, look for clogged holes/slits from where the water comes out. If you've noticed your dishwasher not cleaning your dishes as thoroughly as before, that may be where the problem is.
Step #3. Vinegar and baking soda cycles
You can now return the racks and everything else to their original place. Pour 1 cup of vinegar into a dishwasher-safe container and place it on the top rack. Now, run a hot water cycle.
After finishing, take out the container. Then spread 1 cup of baking soda over your dishwasher's bottom and run your machine on a short cycle. This extra rotation will remove any stubborn grime and leave your appliance smelling fresh!
How to prevent grime in your dishwasher
Keeping your appliance clean for longer it's completely possible. Here are three tips to achieve it:
Wipe your dishwasher daily. After every use, wiping will prevent mineral buildup on walls and water holes. Also, get rid of food residue as soon as you notice it. Use a toothbrush to unstuck it if necessary.
Clean your filter weekly. Scrub this mesh with a medium brush. Rinse your filter and lock it properly before operating your dishwasher.
Clean with vinegar monthly. Place a cup of vinegar inside your dishwasher and run a hot cycle to keep the grime away!
Maids In A Minute will help you with the rest of your house!
A spotless dishwasher is just a part of a squeaky clean house. If home cleaning is still a tall order, let our skilled cleaners take over your household chores while you relax. Our 54-point checklist ensures your place will be spotless after every session. Check it out!